Application
Registration rules for UltraTri Sweden July 21 - July 23, 2017
The maximum number of starting slots for 2017 are 20.
Pre-registration was open July 29th - August 26th. Qualified and pre-registered athletes have the opportunity to transform their non-binding pre-registration to a full entry. Apart from invited pre-registered athletes, the main registration operates by first-come, first-served.
Starting fee for 2017 is SEK 9000, of which 25% is to be payed no less than 14 days from invitation. Registration procedure as of September 1st is as follows:
Read the Rules, Terms and Conditions 

(2017 year's edition, 2016-08-30)

Fill out and submit application form
Wait - we will read and reply to all applications
Pay - if you are invited to participate we will send you an initial invoice of 25 % of the fee – pay this within 14 days to secure your starting slot. The remainder of the fee should be paid within 120 days after invitation but no later than January 31st.
Consideration will be given to individuals that have volunteered or crewed in previous Ultra Triathlons or similar.
Requirements
UltraTri Sweden is an extreme event and requires extremely prepared athletes on the starting line. You need to have completed at least one of the following in 2013-2016 in order to qualify: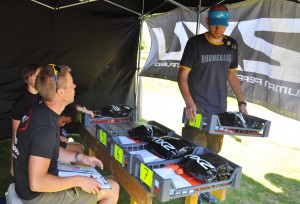 Ultra-Distance Triathlon
IM distance of extreme character (X-tri series etc)
Ultra-Distance trail run and Open Water swim of 3k or more and Bike event of 200km or more
Two or more IM distance races
One IM distance race in below 12 hours
Comments & Responses